Brats
Date: 1978-10-06
Location: Copenhagen, Denmark
Venue: Saltlageret
Setlist:
I need help with this setlist.
Comments:
The show was announced to be held at October 5th, 1978, but fot some reason it was moved to the October 6.

Brats only played one song.

Other band that played this night: Sods, Local Operator, Psychotics.
Pictures: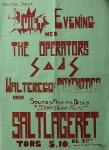 Poster
The Mercyful Fate / King Diamond F.A.Q. © 2005-2015 |
Webmaster